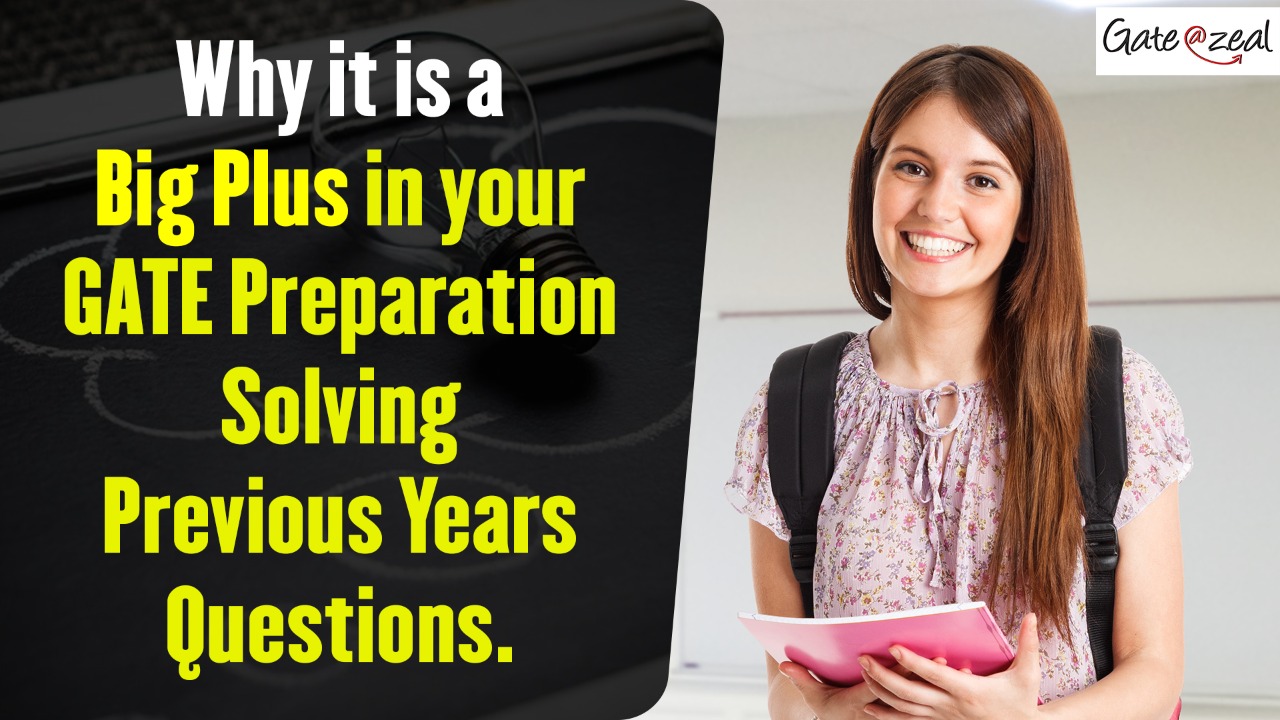 Why it is a Big Plus in your GATE preparation solving previous years questions.
Every year around 8.5 lakh candidates appear for the GATE paper which is conducted for admission to M.E/M.Tech or PhD courses offered by NITs, IIITs, IITs and CFTIs. Some of the candidates also appear for GATE because it acts as a channel for PSU recruitment. Since the competition level is very high for the exam, candidates are worried about their exam and keep searching for a preparation strategy to crack GATE. We have received various queries like what will be the difficulty level of the GATE 2022 question paper, how to crack GATE 2022, preparation tips and many more. Solution to all these queries is GATE previous year papers; yes, candidates must practice more and more previous year papers to know about the difficulty level of the exam and to be prepared for it. Practicing previous year GATE papers also helps in boosting the confidence of candidates. Read the full article to know why practicing previous year GATE papers is a must
Benefits of practicing previous year GATE papers:-
Helps in Understanding Paper:-
Practicing previous year GATE papers will help the candidates to understand the type and level of questions asked in the exam. Candidates will be able to understand the pattern of the paper completely. These previous year GATE papers also help in understanding the previous year trends of the exam like weightage of subjects in the exam.
Feeling of Real Exam:-
While solving previous year papers you feel like a real exam, due to which you feel as if you are giving the original exam, this reduces your anxiety level, this will help you in exam time.
Increases Speed and Time management:-
Candidates should practice these previous year GATE papers by setting a timer of 3 hours so as to have the real feel of the examination. Practicing more and more previous year papers like this will help the candidates in increasing the speed and time management skills. Solving previous year question papers will help the students to evaluate the best way to write the answers during exams. It would also help them to manage time effectively at that time. The students can improve their time management skills to solve the question paper if they practice solving these last year question papers.
Helps in Performance Analysis:-
Practicing previous year GATE papers help the candidates to analyse their performances. After attempting the paper, candidates can check the mistakes done by them and work on them. In this way, candidates understand their weaker and stronger areas. Analysing the performance day by day will also help them understand how good their preparations are.
Boosts Confidence:-
As candidates can analyse their performance and know about their weaker and stronger areas by practicing previous year; it boosts their confidence. Candidates become more confident about their performance in the exam. It also eliminates any exam fear among the candidates. You will be able to understand the important topics for the exam. After attempting previous year papers you will know which topic you need to focus more, and this can be more beneficial during the exam.
Knowing strengths and weaknesses:-
Candidates who are aware of their strengths and weaknesses have high chances of securing good marks in the exam. This helps them to know how to attempt the question paper. As per the experts, in order to achieve high marks in GATE, it is important to know how to avoid negative marking. Many times, negative marking is the result of silly mistakes such as inability to read the questions carefully. Therefore, solving previous year papers for GATE allows students to know the areas they are losing marks in.
Assess Your Preparation:-
This is the final and the most important advantage of including GATE question papers in your preparation strategy. Solving previous year GATE Question Papers allows aspirants to assess their preparation and track the progress. It also points out any weak areas that need special attention or any changes that are required to beef up the preparation process. A student should make it a habit to solve the previous year's question papers regularly. This would help them in preparing for their exams in a better way. They should analyze the strengths and weaknesses of the subject using these papers.
Collect at least 3 to 5 years' GATE question papers and spend some time analyzing them.

Focus on the topics and subjects having greater weightage. Besides that, you will also come to know the actual difficulty level, type of questions asked, your level of preparation, and how better to work.

You will have a fair idea of the topics which you need to stress more on.