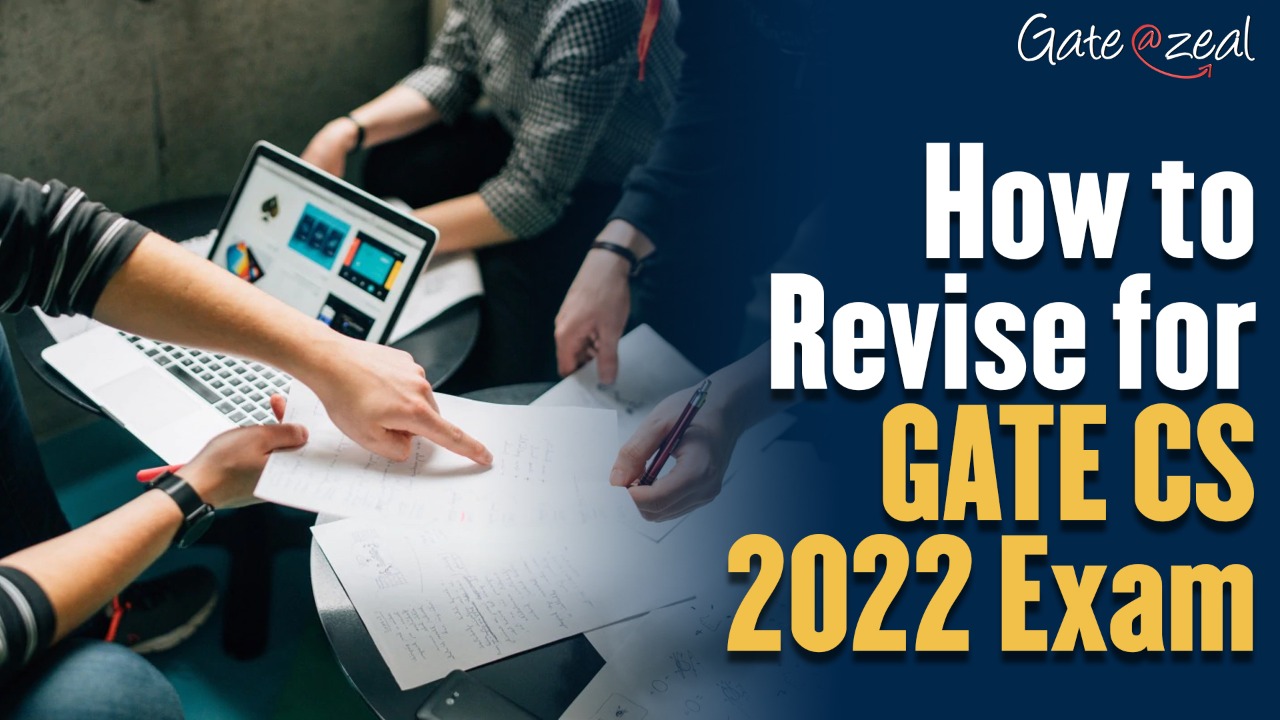 How to Revise for GATE CS 2022 Exams and Score Maximum marks.
It is easy to decide how to prepare for any exam, but it is more complicated to learn how to revise the syllabus. Whatever exam you are studying for, after seeing the syllabus and enrolling in a good coaching institute, you will be able to grasp what you need to study and how to study for that exam. However, after the entire syllabus has been studied and the time for revision has arrived, students are often perplexed as to how they can conduct last-minute revisions and what to prepare to achieve good grades. In this post, we will share with you, How to revise for GATE CS 2022 Exam.
In the sense of the GATE CS exam, some candidates would feel the same way. The GATE CS 2021 exam just finished, and the results are in, so those who want to pass the GATE CS 2022 exam must have begun studying for the 2022 GATE CS exam.
And, before those students begin the revision phase after studying the entire syllabus, we want to show them how to revise effectively to achieve the highest possible score on the GATE CS 2022 test. So let's get started with a few pointers to help you with your revision.
How to revise For GATE CS 2022 Exam
Study well - Collect accurate –
This is the 1st thing to do to revise for GATE CS 2022 exam. Before revising, it is important to first understand the GATE CS 2022 exam syllabus. Read it carefully and try to understand every concept, and do a one-time vision of the entire syllabus. Because revision cannot be done if we did not study the syllabus at least once.
Additionally, you must take careful notes on the entire syllabus and gather the study materials that you will be revising before initiating the revisions. It's also crucial to know the topics in the GATE CS exam syllabus for 2022 are the most relevant, which topics have the most weightage, and the topics are likely to have the most questions in the GATE 2022 CS exam.
All of this knowledge will guide you in revision; you will be able to determine which topics you should focus on when revising. As of now, we don't know what the important topics of GATE CS 2022 are since the IITs haven't specified which syllabus would be used for the exam.
Revision plan is necessary –
A goal without a plan is just a wish. A good revision plan is required in the same way that a good study plan is required for studying. And, to make a successful revision plan, you should first figure out which topics on the syllabus you've already covered and which ones you haven't. Once you've grasped this, make a list of relevant topics to include in your list, and then read them thoroughly.
Study accurately –
Revision does not imply that you go over all of the topics on the syllabus once more. At the time of the revision, you just need to study the summary of topics from the syllabus, and the most important topics should be studied quite carefully, with keynotes taken, and then memorized completely. And it's important that you just review what you've already read; during revisions, don't attempt to learn something new; instead, focus on consolidating what you've already learned.
3 Ways to revise for GATE CS 2022 Exam–
Previous year's papers –
The best way to revision for GATE CS 2022 Exam is to practice as much as possible, particularly the questions that appear on the GATE CS exams. To do so, you must solve the previous year's GATE CS exam question papers from the last 5 to 7 years. This will ensure that you cover the majority of the topics on your GATE CS exam syllabus. Solving previous year's exam papers is a great way to brush up on your knowledge.
Mock tests –
Giving mock tests is an effective way to assess your abilities and review the syllabus. You should take such a mock test for the GATE CS 2022 exam revision that contains GATE CS exam questions. You can do so by visiting the GATE at Zeal website, which offers the best mock test for the GATE CS 2022 exam revision.
Work on your strengths and weaknesses –
When it comes to revision, you should first determine which subject or topic is the most challenging for you, and then study, understand, and try to fully clarify it. Then in the next step, you should practice certain topics that you already know well. Basically, you should improve your weak subjects while strengthening your strong ones.
Friends, all of these strategies will help you achieve the highest possible score on the GATE CS 2022 exam. If you work hard by following them and keep your attention on your target, then you can certainly pass the GATE CS 2022 exam with the highest score. So our article on "How to revise for GATE 2022 Exams end here.

To read our blog on 6 Scopes After Doing GATE in Computer Science?, Click here
Want to prepare with Gate at Zeal, Click here
Our Toppers in GATE CS 2021 Exams: Click Here