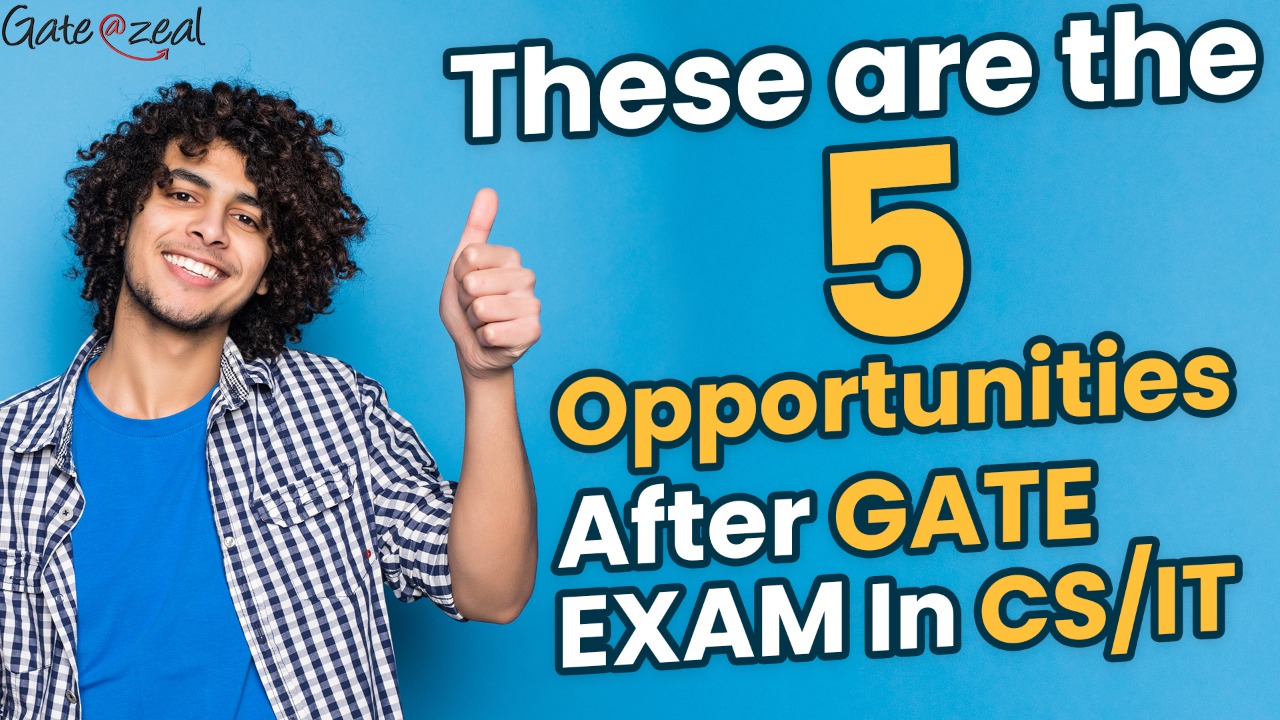 opportunities after gate exam
If you are a Computer Science Graduate and confused about what are the several options after clearing the GATE exam, then this article will help you in identifying the opportunities after GATE Exam in CS. Around 10 lacs students from all the branches in all over India appear in the exam every year. In which students of the CS branch are around 1 lac to 1.5 lacs (approx).
You can put your skills and knowledge into practice in the roles like -
Module Lead
Design Engineer
Software Engineer
Technical Project Manager
Software Developer/Programmer
Project Manager Engineering & many more
Qualifying for the GATE exam will make you successful in your academic life and as well as increase your further career options. You unlock the doors for higher remuneration and prestigious job in the PSUs, along with lucrative perks. Let's check the Career Prospects after qualifying GATE for a CS student.
5 Opportunities After Gate Exam.
Pursuing M.E./M.Tech from Top Institutes -
If you have qualified GATE, you can directly apply for M.E. or M.Tech from the topmost IITs like IIT Bombay, IIT Roorkee, IISc Bangalore, IIT Kanpur, IIT Guwahati, etc. Moreover, if you have a very good score GATE score you can get a monthly stipend during your two years of the M.Tech. program. After completing your master's, you can get placed in your dream company. After that, you can easily get a package between 10 lacs to 30 lacs INR.
Taking up a Job in Public Sector Units (PSUs) -
Another option after qualifying GATE is going into PSUs. In the PSUs, they can get handsome salaries which one could only dream of. PSUs hire the students with topmost ranks in the GATE exams followed by Group Discussions and Personal Interview. Some of these PSUs in India are as mentioned below -
Indian Oil Corporation (IOCL)
Delhi Development Authority (DDA)
Bharat Petroleum Corporation Limited (BPCL)
Gas Authority of India Limited (GAIL)
Hindustan Petroleum Corporation Limited (HPCL)
Mineral Exploration Corporation Limited (MECL)
Bharat Electronics Limited (BEL)
National Aluminum Company Limited (NACL)
National Thermal Power Corporation (NTPC)
Bharat Heavy Electrical Limited (BHEL)
Research & Development Opportunities -
After completing a master's program you can also choose the research field. This is one of the areas in which students have the least interest and is opted by a very less number of students. But just keep in mind, after a few years of hardships, you will ultimately get settled getting financially satisfying jobs and extreme prestige.
Studying in top universities abroad -
Every student has a dream to study in a foreign university and you can get admission to the few top universities in the world where GATE scores are valid. For example, the National University of Singapore admits GATE qualified students if they score more than 90. Also, you can take admission to the colleges in the US, though you have to qualify for Graduate Records Examination (GRE). from here, you can get placed with the best brands like Google, BCG, Amazon, Adobe, and so on.
Get a Highly Paid Job -
Even if you do not want to study further, you can get well-paying engineering jobs that match your interests and expertise. If you have already completed your master's degree you can take up a job in a Government Undertaking or also you can get placed or selected in a leading Computer or IT company.
So, if you want to take up these opportunities after GATE Exam in CS, work hard to crack the GATE exam by joining a renowned GATE coaching institute like Gate@Zeal and fulfill your dream of studying in an IIT, IISC, or IIM or getting coveted PSU jobs. You can download our app by clicking here.
ALL THE BEST!!