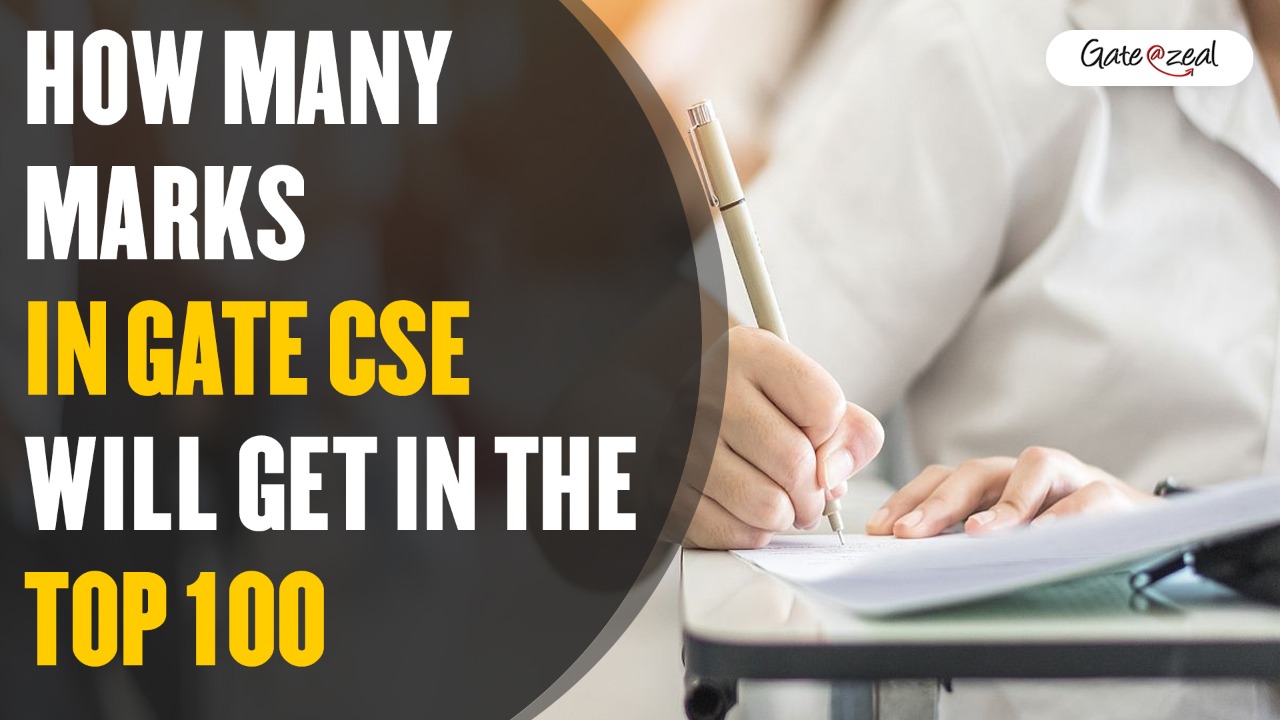 How many marks in GATE CSE will get in the top 100?
Every year, the GATE examination is held jointly by the Indian Institute of Science Bangalore and seven IITs for each branch of engineering. This exam is meant to gain access to postgraduate, master's, and doctoral programs, as well as financial assistance for graduate students.
And having a good GATE score is crucial for getting into any good institute, such as IITs or NITs, via the GATE exam. Every year, the institutions that administer the GATE exam issue a list of GATE cut-offs for each paper, such as civil, electronics, computer science, and so on, in order to determine the criteria of a good score, as well as the guidelines on how a candidate should rank among the top 100 candidates in the GATE exam.
So, let's learn about the gate score and ranking system, as well as, How many marks in GATE CSE will get in the top 100?
Before we can comprehend GATE score and rating, we must first understand the GATE computer science marking scheme; only then will we be able to interpret the score system.
MARKING SCHEME –
In the GATE CS exam, there are a total of 100 marks for all questions. Subject-Specific Questions, Engineering Mathematics, and General Aptitude are the three parts of the CS GATE paper.
CS General Aptitude GATE paper consists of ten total questions, each of which is worth 1.5 points. Subject-Specific Questions are worth 70 points, and there are 45 questions in total in this paper pattern. The Engineering Mathematics paper is worth 15% of the overall marks and has ten questions. Any incorrect answer receives a -1/3 or -2/3 mark, according to the marking scheme.
Applicants should be aware that their actual GATE CS mark is out of 100, whereas their GATE CS scores are out of 1000. And the normalization method is used to measure the candidate's grades in this category. The actual GATE CS marks received to applicants, who took the GATE CS exam, from the opposite side, have been used in the score calculation formula to determine GATE scores.
We believe that with this knowledge, you will be able to grasp the GATE computer science exam's marking scheme, so we will now comprehend the GATE CS cutoff marks and ranking system.
GATE Cutoff and Ranking –
The officials evaluate a gate score centered on the applicants' normalized or real marks on the GATE CS exam. The GATE CS cutoff marks are determined by the top 100 marks achieved in the GATE computer science exam. Actual markings will be used to calculate the GATE CS score when the solutions have been evaluated.
Basically, a successful gate score would be something which lets everyone entered to IITs, NITs, or even other prestigious institutes that offer M.Tech. programmers, or gets you hired in PSUs that offer GATE employment.
For now, IIT Bombay has published only the GATE CSE 2021 cutoff marks, and the category-by-category cutoff specifics will be accessible upon the scorecard and the GATE CS 2021 cut off was 26.10
And if we talk about rankings so a GATE CS score of less than 200 is needed for entry to best IITs. Candidates having the ranking between 600 to 800, on the other hand, will qualify academically to IITs and IIITs. GATE scores in the 350-800 range are needed for entrance to top NITs.
As per the previous year data the candidates who obtained 70 or more than 70 marks were listed in the top 100 and in 2019 this top 100 marks that falls under the top 100 ranking was 75+. By this one can estimate that the 70- 80 marks in GATE CSE will get in top 100 ranks.
Let's look at some top 100 marks and ranks of 2021
| | | |
| --- | --- | --- |
| Marks | Rank | GATE score (total=1000) |
| 87.81 | 1 | 1000 |
| 83 | 2 | 1000 |
| 79.67 | 4 | 1000 |
| 78.33 | 6 | 985 |
| 78 | 7 | 981 |
| 68 | 80 | 865 |
| 67.5 | 95 | 853 |
As per the data in the table above, to be in the top 100 rankings in the upcoming GATE CS exam, an applicant must have 70+ GATE marks. Only the top 100 marks-ginning candidates will be eligible to achieve the highest ranking.
So, we hope you now know how many GATE marks you'll need to place in the top 100 in the GATE CS exam next year. And if you want to be among the top 100 GATE CS rankers, you must work hard and prepare yourself.
So, don't waste time and enroll in a successful GATE exam preparation institute such as Gate at Zeal to become a GATE scorer.
How to Revise for GATE CS 2022 Exams and Score Maximum marks? Click here to know
6 Scopes After Doing GATE in Computer Science? Click here to know