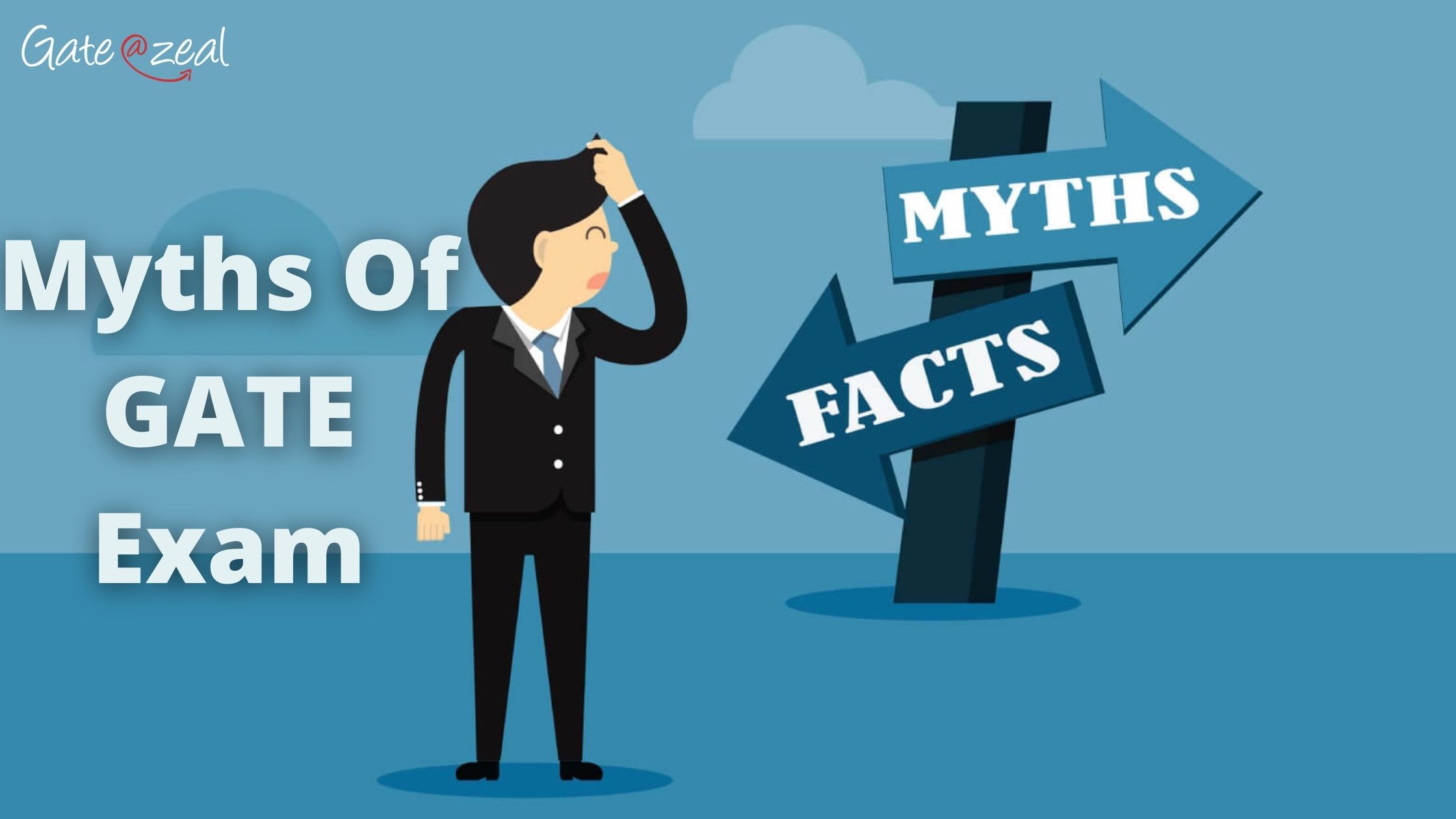 8 Myths of Gate Exam | Are they True?
Most of the time, it is the fear in one's mind which stops an individual from climbing the ladder of success. Most of the students have myths regarding the GATE exam and due to the fear of failure, they do not even try to study or take a chance to move ahead. Today, you are going to know some common myths of Gate Exam. First of all, let's discuss What is GATE?
GATE or Graduate Aptitude Test in Engineering is a test of a student's grasp over his or her undergraduate studies - right from the first year to the final year of his engineering or technical or computer education. It checks the clarity of the candidates' concepts as well as their application.
Proper planning, determination, focus, and devoted preparation is the key to success for any competitive exam and the same applies for GATE too. I must say it is one of the most renowned exams as it has a number of benefits for the students.
Benefits of the GATE exam-
There are so many benefits of gate exam. Let's know some
Benefit: Ticket to Junior Research Fellowship
Benefit: Public Sector Undertakings Hiring
Benefit: International Opportunities
Benefit: Domain Specialisation
Benefit: 100% Job Placement
In spite of all these benefits of the GATE examination students have some misconceptions regarding the exam.
Myths of GATE Exam -
Let's discuss a few of these myths related to GATE -
1. It's a tough nut to crack
It's the biggest myth similar to the other competitive exams. Every exam will be tough for you if you do not study properly and have focused study goals. The toughness of any exam depends on the preparation done. Keeping the concepts right will help you in scoring high in the GATE exam.
2. Attempt Every Section
Don't take a risk!! If your aim is only to qualify in the exam, then you can afford to leave out some sections and focus on the important ones and still get enough marks to qualify.
3. Earn more marks by attending all questions
Never ever make this blunder!! Students should keep in mind that GATE has negative marking for wrong answers. The penalty for a wrong answer is one-third and hence one is required to answer the questions carefully to maximize his/her marks. It's okay if you missed a couple of questions but attempting it wrong could affect your overall GATE score.
4. Complete Syllabus knowledge of Graduation is required
GATE has a specified syllabus for each stream. Although it is based on your complete graduation syllabus all subjects and all topics are not included. So no need to waste time on topics that are not important for GATE
5. Luck is a Major Factor
Success is only one percent luck and ninety-nine percent determination and working for its achievement. Don't let that 99 percent thing slip from your hand. Toil sincerely, and you will be rewarded with that one percent luck.
6. Study the whole night before the exam
Another most important thing is that don't study till late at night, at least the night before the exam. For that day go to bed as early as possible and stay cool. Just revise some topics.
7. Refer to as many books as you can
If you start reading all the books for every subject, then you may not be able to complete the syllabus in the given time period. One must refer to books but only those which are extremely necessary and not all the books. At Gate@Zeal we provide you consolidated notes prepared from the best sources and expert guidance which will surely help you crack this myth.
8. Only IITians and NITians could crack GATE
This is a myth that stops a lot of the students from even appearing in the examination. There have been a lot of GATE toppers who have been from tier 2 or 3 colleges. There are also a lot of toppers who failed in graduation but managed to score top 10 ranks in the GATE examination. If you listen to the toppers talk you will realize how hollow this myth is and that the only key to success in the GATE examination is dedication not college, branch, or your CGPA.
Dear Students, The GATE exam is the same as any other exam, so no need to take the stress. Just stay calm and assertive in your abilities, especially in the examination hall because anxiety and pressure may make you forget everything that you have studied. Just avoid thinking of these myths of gate exam and get started with a prosperous journey for GATE CSE at Gate@Zeal.
Written By:- Khushbu Rajpoot