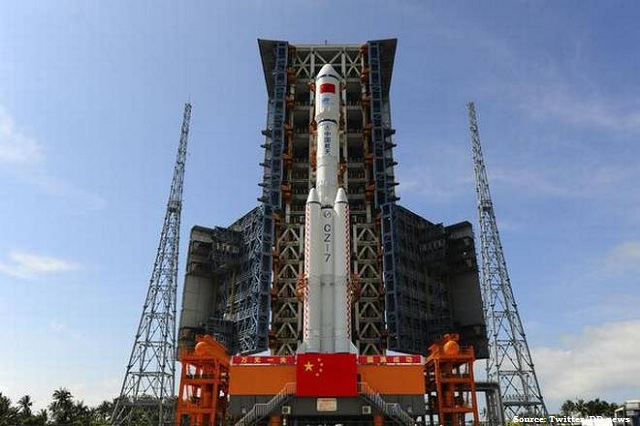 Sudan"s First ever Satellite "SRSS-1" launched by China
Sudan's first-ever satellite 'SRSS-1' launched by China :-
Sudan's first-ever satellite, SRSS-1, was launched by China on November 3, 2019 from Shanxi Province in north China.
The launch of the satellite was announced by General Abdel Fattah al-Burhan, who heads Sudan's sovereign council, during a meeting with his top security officials in Khartoum.
The remote-sensing satellite has been launched to conduct research in economic, military and space technology.
Why did China launch Sudan's satellite?
China launched Sudan's satellite as it was a partner in the project.
Sudan's first satellite: All you need to know!
Sudan's remote-sensing satellite, SRSS-1, was developed by the Shenzhen Aerospace Oriental Red Sea Satellite Co.
The satellite was launched aboard China's Long March-4B rocket along with other Chinese satellites including Gaofen 7, Xiaoxiang-1 08, Whampoa 1 from the Taiyuan Satellite Launch Center in northern China.
The Sudanese satellite has been mainly designed for civil and military remote sensing over Sudan. Objective
The remote-sensing satellite aims to advance research in space technology. Its main objective is to acquire the required data as well as discover natural resources for the country's military needs.
The satellite aims to generate a comprehensive, cost-effective and reliable database on the topographic, mapping and natural resources of Sudan.
Significance
The data acquired from the satellite is expected to help in developmental planning, exploration of natural resources, environmental monitoring, agricultural monitoring and yield estimation and public security (intelligence) and defence applications.
The satellite would be monitored from Sudan in a few months, according to the spokesperson of Sudan's ruling body Mohamed al-Fakhi Sulaiman. Sudan aims to establish a space industry in its territory by owning its first satellite and developing ground facilities in Khartoum North.
Sudan's Space Programme
Sudan had been involved in a national space programme since decades, covering activities such as remote sensing and geoinformatics.
Sudan's now-ousted leader Omar al-Bashir had established the Institute of Space Research and Aerospace in 2013. Omar al-Bashir, who had ruled the nation for over three decades, was ousted by the army following a nationwide protest movement against his rule in April 2019.
Omar al-Bashir had established the Institute of Space Research and Aerospace (ISRA) to support the nation's overall plan to develop space technologies.
The Sudanese government had rolled out an ambitious aviation, aerospace and telecommunication project development portfolio in the beginning of 2019.
The project included a plan to launch Sudan's remote sensing satellite, SRSS-1 and its communication satellite, SUDASAT-1 into space soon.