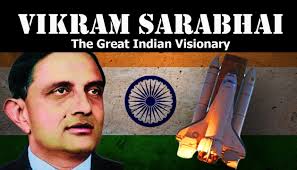 Dr. Vikram Ambalal Sarabhai (The Father of Space Program)
Dr. Vikram Ambalal Sarabhai
(12 August 1919 – 30 December 1971)
was an Indian scientist and innovator widely regarded as the father of India's space program. Sarabhai received the Shanti Swarup Bhatnagar Prize in 1962.
He was honored with the Padma Bhushan in 1966 and the Padma Vibhushan (posthumously) in 1972.
Son of
Ambalal Sarabhai
, he came from the famous
Sarabhai family
of India who was major industrialists committed to the
Indian independence movement
. Vikram Sarabhai married the classical dancer
Mrinalini
in 1942. The couple had two children. His daughter
Mallika
gained prominence as an actress and activist, and his son
Kartikeya Sarabhai
too became an active person in science. During his lifetime, he practiced
Jainism
.
President of the Physics section, Indian Science Congress (1962)
President of the General Conference of the I.A.E.A., Vienna (1970)
Chairman of the Atomic Energy Commission of India (1966–1971)
Vice-President, Fourth UN Conference on 'Peaceful uses of Atomic Energy' (1971)
Founder and Chairman (1963–1971), Space Applications Centre
The Vikram Sarabhai Space Centre, (VSSC), which is the Indian Space Research Organization's lead facility for launch vehicle development located in Thiruvananthapuram (Trivandrum), capital of Kerala state, is named in his memory.
Along with other Ahmedabad-based industrialists, he played a major role in setting up of the Indian Institute of Management, Ahmedabad.
Indian Postal Department released a commemorative Postal Stamp On his first death anniversary (30 December 1972)
In 1973, the International Astronomical Union decided that a lunar crater, Bessel A, in the Sea of Serenity will be known as the Sarabhai crater.
The lander on India's moon mission Chandrayaan II is named Vikram in his honor which will finally land near the South Pole of the moon on Sep 7, 2019.